Brochures
You may have an exact idea of what you want for your windows, doors or conservatories, but in our experience, the majority of our customers need a little inspiration to find what is perfect for them. Even if you do know what you want, we have so many state of the art options available, you might be tempted by a better version.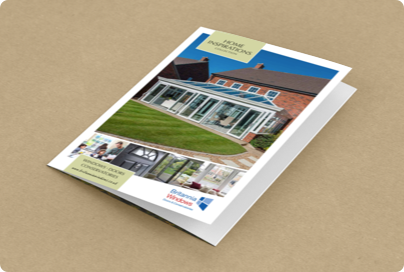 Our brochures have been designed to give you home inspiration and let you visualise what different options look like and how they would fit in with your home. Would a Victorian or Edwardian conservatory complement your house better? Or maybe you'll be inspired by an Orangery, giving you all the light of a conservatory but with a bit more solid brickwork.
We have a state of the art factory in Clevedon, North Somerset, where skilled professionals can make bespoke windows, doors or conservatories. Our brochures will give you an easy way to pick and choose the elements you want so you know exactly what you're getting.
We can tell you our uPVC wood finish window frames are almost indistinguishable from real wood, with none of the upkeep – but why not see it for yourself? We have a variety of different colour finishes, as well as multiple decorative glass options so you can make your home as individual as you are.
Download our brochures today so you can see what we offer at your leisure; then contact us to find out more!