Give your home a professional finishing touch with our high quality roofline, including soffits, fascias & guttering. We offer them in a range of colours and styles so you can get the perfect finish to complement your home. Whether you have a more modern property or something a little more traditional, the team here at Britannia will help you find the perfect solution.
Our range of roofline products are made from modern uPVC. Being a naturally sturdy and resistant material, this will provide natural protection against the weather and wearing in general. It will also present a long lasting solution for your home. Whether looking for soffits, fascias or guttering, you'll find a solution for your home that will last the test of time.
Available Online, In-Store or At Home
Experience the freedom of obtaining the products you desire, tailored to your preferences. Our dedicated team is always available to assist you whenever you require assistance. Your satisfaction is our priority.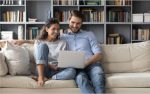 Online
Request a quote, use our digital designer or schedule a free one-to-one session with a design expert
Get a free online quote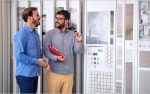 In Store
Visit your local showroom to explore our stunning product range and see for yourself.
Book a Showroom visit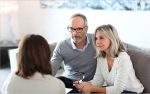 At Home
Have our friendly design expert over to discuss your project, advise and take measurements for an on-the-spot quote.
Book a home visit
Experienced Installation
The installation of your soffits, fascias and guttering will be a vital part of your experience with us. Being such an established company, we have a thoroughly trained and knowledgeable team of fitters who will provide an excellent service.
Flexible Payment Options
We like to make things as easy as possible for our homeowners. This being the case, we offer a range of flexible payment options across our soffits, fascias and guttering. You can see the full range of finance options from our page here.
Best Supply Chains
Being an established business with more than 40 years of experience, we know how to produce quality. To aid with this, we work with leading supply chains who provide us with the very best soffits, fascias and guttering products.
Built to Last
As with all of our home improvement offerings, our roofline is designed and built to last the test of time. Made from high quality uPVC, it will shrug off even the worst effect that the British weather can throw at it.
Home Visits Available
We're more than happy to accommodate any homeowner. This being the case, we can arrange a home visit to your property to help plan your new home improvement. Craft the perfect soffits, fascias and guttering with our help.
Visit Our Showroom
Our website will give you a great idea of the quality of our soffits, fascias and guttering. However, nothing quite beats seeing them up close. Our showrooms in Bristol, Clevedon and throughout the South East and South West will give you this opportunity.
Quality Soffits, Fascias & Guttering
Fascias are the boards that are attached to the bottom edge of your roof at the front and back of your home. They provide support for the lower row of roof tiles, give a solid base to fix guttering onto, and stop moisture from reaching your rafters. This prevents damp and rot from occurring within your property and keeps your home in the best possible shape.
The soffit board runs along the length of your roofline and protects your rafters from the elements. At the same time, they ensure that moisture stays away from these vital components to keep the structure of your home healthy. Guttering will funnel rainfall and large amounts of water away from the structure of your home to keep water draining.
Made to Measure Soffits, Fascias & Guttering
Our roof trim and fascias are made to measure for a perfect fit to ensure your home looks and performs its best for years to come. Crafted to complement the unique shape of your home, this ensures the very best performance. Choose a dark roof trim and fascias that match your house tiling, a classic white or maybe you'd prefer a bright colour to add a pop of individuality to your home. The choice is yours.
Modern roof trim also represents a hassle free solution for your home. Made from the latest and best materials, they are built to be hardwearing and resistant to the elements. As a result, they're also easy to keep clean!
Frequently Asked Questions
What does roofline include?
The phrase roofline actually includes a lot of different products, including fascias, soffits, cladding, guttering and downpipes, but in general, the term refers to different types of protection for the edges of your roof.
Where are your soffits, fascias and guttering made?
We manufacture all of our roof trim right here in the UK. This is all done from our factory based in Clevedon.
What's the best way to find prices?
The best way to find prices on our soffits, fascias, and guttering is by getting in touch with our team, either online or over the phone.
Happy Customers
Meg Welch
Great job of our new front door. They couldn't have been more helpful and even fitted earlier than originally planned. Also gave great aftercare advice and at a very reasonable price! Would 100% recommend.
Annette Clemons
Cannot recommend Britannia Windows enough! Joe & Keith, the installers were great – explained what was to be done, showed me everything I needed to know upon completion, very considerate & tidied up really nicely. Very friendly guys who are an asset to the team!!
I LOVE my new windows & door. Such an improvement.
Rachel Godfrey
We have been extremely pleased with Britannia's service. From the initial quote through to installation they were great and really easy to communicate with. We had our conservatory roof replaced and they were by far the least pushy and most competitive in terms of pricing.
We can definitely recommend their services and will likely be returning again soon for a new front door!
Peter Burgess
Fantastic job from initial phone call through to final tidy-up.
Britannia provided great advice before purchasing my new windows and fitted them to a high standard being punctual and polite throughout.
No request was a problem and I will definitely be using them again and would recommend to friends and family.
Jerry G
Wow a fantastic job by both sales team and fitting team.
Sam provided excellent service and answered any questions that we had. Luke, Dave, Keith and Joe did a fab job at fitting the windows and doors. Never having had anything like this done before I was a little nervous but the guys were clean and tidy and the outcome is amazing.
Would highly recommend.