Windows
Manufactured in our Bristol & South West family-owned factory
Buy now, pay later
Interest free finance
Google 4.9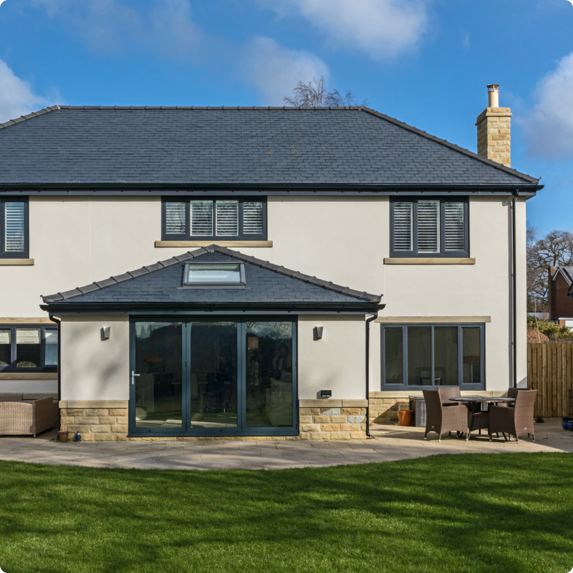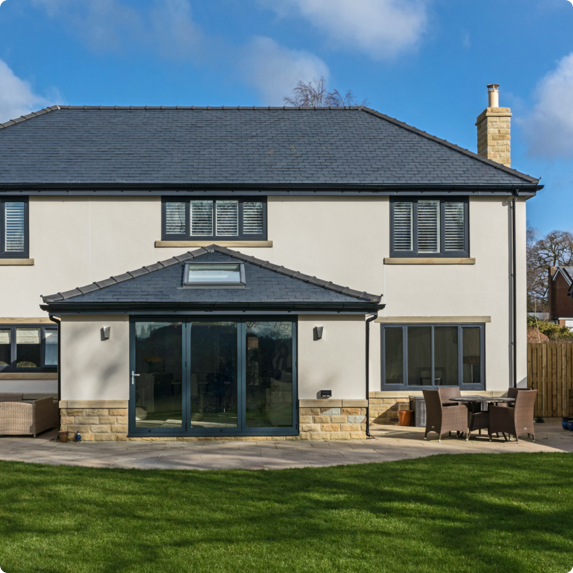 Double Glazed Windows
At Britannia, we don't think you should compromise on the windows you want. All our windows are made in our state of the art factory near Bristol, so we can manufacture the perfect size and style of window to complement your home.
At Britannia, quality is an obsession, and we want to make sure that your new windows are the best possible; that's why we are always at the forefront of innovation in our industry. We use A+ rated glass only, and you can choose between double or triple glazing.
The modern PVCu we use is a far cry from the same material used in the 80s. It is elegant, incredibly insulative, and now available in a range of colours and wood finishes if you want something different from the classic white. Our Aluminium windows are slimline and durable and they are becoming increasingly popular in modern properties.
New window ranges
Choose from classic sash windows, French windows, high-performance tilt and turn windows which open two ways, and casement windows. If you want to add light, space and value to your home, then we can install bay or bow windows to your home as well.
Windows are an incredibly important part of your home, and we want to make sure you make the right choice. That's why we carry out friendly home visits to talk you through the different options available and help you make the best choice for your home.
Contact us, download the brochure or browse our website to find out what new windows you could have in your property.
Common questions
What type of window frame is best?
The answer to this question depends on lots of variables, including your budget, your house type and what you're looking for with your new window frames. Timber frames look great with traditional home designs, but they require much more maintenance than other window frames, and they are prone to warping due to temperature changes. UPVC is an affordable, high performance option that now comes in many different finishes, including wood. Aluminium is sleek and durable, but will need you to dig a little deeper in your pocket to install them.
If you're confused about which window frame would be best for your home, contact us today to talk to one of our experts.
What type of glazing should I get?
The standard glazing offered by most window companies is double glazing, although not all double glazing is created equal. We've found a 28mm unit with a 20mm gap between the panes to be the most energy efficient and noise reducing, so we offer this in all our double glazed windows. Single glazing is very inefficient and causes condensation, and is rarely installed in new properties.
If you live in a very cold area and want the best thermal efficiency on the market, then contact us to talk about triple glazing; with three panes of glass and two gaps, it is ideal for exposed rural properties.
Can I expect energy savings with my new windows?
This depends on the windows you had before, but in most cases, yes! If you are upgrading from single to double glazing, or double to triple glazing, then you will definitely notice a difference between the amount you spend on heating over the winter. If the windows you are replacing are fairly old, it is likely that the seal in their frames isn't as efficient, so draughts might be slipping through and further reducing the efficiency of your windows.
Installing brand new, expertly installed double or triple glazing windows is likely to result in energy savings, but you'll notice the difference most acutely if you are upgrading from single glazing.
What is the warranty for windows at Britannia?
Our windows carry a written guarantee of up to 10 years*. This means that we are as invested as you are in giving you the best quality windows, installed to the highest standard. The guarantee may be for 10 years, but the majority of our windows will last much longer than this provided that they are cared for properly. When we install your windows, we'll explain the best way to maintain them depending on where the windows are and the area you live in.
We put our customers first, so if you have any doubts or questions about your windows, please don't hesitate to contact us.
*Conditions apply, please ask for details.
Can I match the design of my windows to my house style?
Your windows are an integral part of your home, and one of the first things people see when they visit you. To make sure your windows match your house style, we offer our windows in multiple different colours, styles and finishes so you can find one that fits!
Our standard uPVC windows come in a range of wood finishes, or you can choose from a range of colours with our Premium range; from an elegant sage green to bright cherry red. Whatever look you want for your house, talk to one of our experts today and we can find the window design that will match your house perfectly.
Do I really need new windows?
Windows don't last forever, but it's natural to want to get the most out of them each time you replace them. Rather than putting a fixed time limit on when you want to replace your windows, instead check your windows periodically to make sure they're performing as they should. Some tell tale signs that you need new windows are:
– Your windows are hard to open or close
– There is condensation between the two glass panes
– You can see visible degradation of your window frame
– Your inner window pane feels noticeably cold to the touch
If you are answering yes to these questions, then it may be time for new windows.
0% APR representative on orders over £3,000
We have various low-cost finance options available. Get a quick quote and apply for finance at the same time.