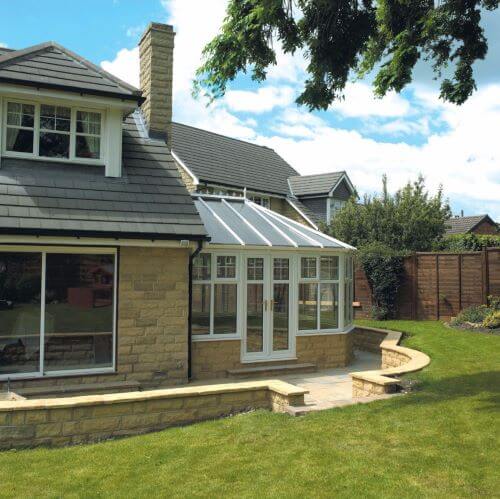 "Our Britannia sales consultant listened and delivered on our dream."
Problem
Young professionals Ms Miller and Mr Thomas had spent a lot of time modernising and renovating their 1950s Bristol home so that it matched their style. The last thing they wanted was to have an old-school traditional conservatory attached to the end that wouldn't be in keeping with their look. They were also wary of having a space that would just intensify extreme outside temperatures.
"I remember wanting to spend time in my mum's conservatory in the summer," recalled Ms Miller, "but it was so hot we only ever used it for drying clothes."
Instead, they wanted to extend their home with a bright living space that matched their modern lifestyle, both in style and functionality. They came to Britannia looking for a high-spec design statement extension.
Solution
Ms Miller and Mr Thomas spoke to one of our specialist consultants, who evaluated their needs to understand exactly what the couple were looking for. They decided to mix and match between a solid conservatory roof and glass panels, which gave them a shaded area to use laptops, phones or watch TV, but with a bright, sunny area as well. 
"It's perfect for relaxing in the evening or socialising with friends," Mr Thomas said. "We love the aluminium bi-folding doors that open up into the garden as well – it's the first thing guests mention when they arrive!"
With plastered walls and a half-solid ceiling, it feels more like a complete house extension rather than just a conservatory, and meant that speakers and wiring could be hidden in the roof pelmet. 
Rather than offering a standard selection of conservatories, we made sure that our product was exactly what Mr Thomas and Ms Miller wanted, as well as offering new technology to make it an even more efficient space.